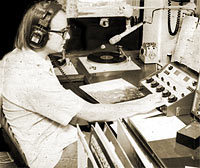 KUCI radio premiered in November 1969 with a program entitled "Problems of the World Solved Tonight." The first song played was the Archies' "Sugar, Sugar."  Operating on the 89.9 FM frequency, the signal transmitter was a mere 10 watts.  Nevertheless, the station's arrival was much anticipated.  By the day of its official debut, KUCI was already a legend on campus, as illegal broadcasts had been transmitted from various locations in the dorms under the station name KUCI before the station was officially established.
KUCI's commitment to alternative radio is reflected in its deejays and other station staff.  Largely unpaid students, KUCI workers have not only worked hard to provide original programming for the entertainment and information needs of their listeners; they also have fought to expand the funding and signal strength of the station so that it could reach an increasingly wider audience.
In 1981, when National Public Radio station KCRW in Santa Monica boosted its signal strength, KUCI, which shared the same frequency, was drowned out.  Though the staff continued to broadcast to maintain the station's legal status, it wasn't until 5 months later, in September 1981, that KUCI was given the go-ahead by the Federal Communications Commission (FCC) to change its frequency to 88.9.  KUCI was finally on the air again.
Over the years, the station, acting independently but with the support of UCI's administration, has been able to boost its signal strength to its current 200 watts.  KUCI's deejays spin records at various campus events, and bands come to the station to perform live shows.  Talk show guests have included Ray Bradbury, César Chávez and Noam Chomsky.  KUCI broadcasts around the clock and streams live over the Internet at www.kuci.org. 
---
University of California, Irvine Clubs and Organizations Publications. PS-033. Special Collections and Archives, The UC Irvine Libraries, Irvine, California. Oct 18, 2017
Photograph: University of California, Irvine, University Communications photographs. AS-061. Box 42. Special Collections and Archives, The UC Irvine Libraries, Irvine, California. Oct. 18, 2017