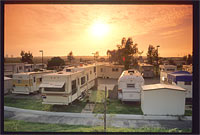 UCI's recreational vehicle residential trailer park opened to students on November 15, 1979. Known as Irvine Meadows, the park was built to accommodate the many students who had already been camped out across the street from campus for 6 years. When the City of Irvine passed an ordinance that made it illegal for the students to remain in their makeshift quarters, UCI set aside a parcel of land, marked off 12 spaces, and made them available for rent. Just a year later, school officials moved the park across campus and made 80 spaces available with sewer lines and electricity. It was the first university housing of its kind in the country.
Irvine Meadows' off-beat charm made it a kind of oasis in the otherwise uniform look of Irvine. Over the course of the park's existence, residents brought their own tastes and creativity to the look of the park. Trailers were painted in an assortment of colors, plants and flowers abounded, and a park and community garden were built. Residents praised it for its funky, bohemian surroundings and strong sense of community, but most importantly, as an alternative to the high rents in nearby cities. When the park first opened, rents were $70 a month. In 2004, rent was still a mere $130 a month, a fraction of the cost of a one-bedroom apartment in Irvine or any other city in the area.
While campus administration always considered the park a temporary measure, residents grew increasingly attached to it. In 1999, the university announced that it would close down Irvine Meadows in 5 years. The announcement met with much protest from residents, but the closure was inevitable, given campus growth and the demand for building space. In July 2004, trailers were auctioned off and residents' belongings were moved out. All residents were off the grounds by August 3rd. The land became a parking lot – evoking the Joni Mitchell lyric from the 1970s, "They paved paradise and put up a parking lot."
---
​University Archives Vertical Files collection. AS-163. Box 11 (Folder 9). Special Collections and Archives, The UC Irvine Libraries, Irvine, California. Accessed Oct. 20, 2017.