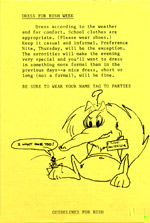 When UCI opened in 1965 there were no fraternities or sororities on campus. Following the advice of the Student Senate and the faculty Academic Senate, Chancellor Aldrich agreed to place a moratorium on the admission of national social organizations. Between 1969 and 1970 students asked the Chancellor to allow the groups to establish chapters, but the two Senates once again advised against, and the existing policy was maintained.
In 1972, however, the U.S. Supreme Court ruled that prohibiting the admission of national organizations to college or university campuses violated the First Amendment. As a result, Aldrich appointed a faculty-student-staff committee to advise him, and the group recommended that three fraternities and three sororities be admitted.
Twenty-five organizations were interviewed for admission in fall 1973, with the outcome that six were invited to establish UCI chapters
Fraternities
Beta Theta Pi
Phi Delta Theta
Sigma Chi
Sororities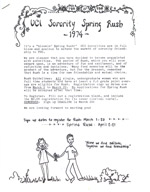 Delta Gamma
Gamma Phi Beta
Beta Phi
The first "rush" was held in spring 1974.
No plans were made to offer housing for the fraternities or sororities. As of 2016, 24 fraternities and 25 sororities have chapters at UCI, but an on-campus "Greek Row" remains an elusive goal.
---
​University of California, Irvine, Greek Life records. AS-131. Special Collections and Archives, The UC Irvine Libraries, Irvine, California. Accessed Oct. 20, 2017.