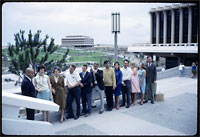 The Class of 1966 was awarded degrees at a commencement dinner at Gateway Commons (now the Gateway Study Center) on June 25, 1966.  Although the graduates numbered only 14, the degrees conferred were in various fields, including art, psychology, math, and engineering.  UCI's first graduating class earned of ten Bachelor of Arts, three Master of Arts, and one Doctor of Philosophy degree.
The students chose Bernard R. Gelbaum, Professor and Chair of Mathematics, as their speaker.  He addressed the valor of the pioneering first class: " In your memorable year at Irvine you have been one of a group of adventurers brave enough to forego the comfortable paths to success, daring enough to gamble with a set of untried ideas and eager enough to cause a quiet revolution in University outlook.  You were endowed with great resources, excellent counsel, and a desire to succeed, and the crucial ingredient of courage."
---
UCI Magazine (Spring 2016): ​communications.uci.edu/magazine/2016/spring/first-class.html​
Photograph: University of California, Irvine, University Communications photographs. AS-061. File SOOO 51, Photo POO 1704. Special Collections and Archives, The UC Irvine Libraries, Irvine, California. Accessed Oct. 23, 2017.