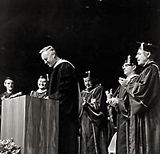 On May 20, 1966, Daniel Aldrich was officially inaugurated as Chancellor of the University of California, Irvine, a position he would hold for 22 years.  Chancellor Aldrich's inaugural address to the UCI community and the Board of Regents was optimistic about the challenges posed for the fledgling University:
"As I look at the world about me, I am sure there never has been a more exciting time in the history of man in which to embark on the building of a university.  Blessed with more knowledge and technology than he has ever known, yet fraught with, and frustrated by, more problems than he presently knows how to solve, man nevertheless dares today to explore, to test, to talk about, and to do more in behalf of the human estate than ever before in history."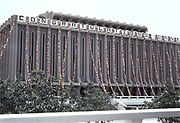 Francis Keppel, Assistant Secretary for Education at the U.S. Department of Health, was the keynote speaker.  Keppel also received the first honorary degree conferred by UCI.
Aldrich had immediately developed a strong rapport with the students, whose gratitude was expressed in a surprise greeting. The night before the inauguration, students decorated the Library-Administration building (now Langson Library) to welcome Aldrich to his new position as Chancellor.
---
Samuel McCulloch, Instant University (Irvine: University of California, Irvine, 1996), 83
Photograph: Early Campus Photograph Albums. AS-056, Box 4. Special Collections and Archives, The UC Irvine Libraries, Irvine, California. Accessed Oct. 23, 2017
Photograph: Anton Ercegovich Slides. AS-054. Special Collections and Archives. The UC Irvine Libraries, Irvine, California. Accessed Oct. 23, 2017