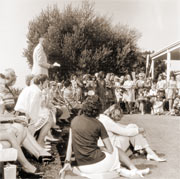 The campus support group Town and Gown was founded in 1963 when Frosty Gerard, wife of founding Dean of Graduate Studies Ralph W. Gerard, met community resident Blanche Harvey. The two shared a mutual interest in creating a connection between the community and the campus. Soon after, Harvey organized a get-together for area residents and several wives of founding faculty and staff members.
The group began sponsoring university speakers at community centers in fall 1964 and created an interim board. The second meeting of Town and Gown was held in January 1965. Topics presented at this meeting included "Our Forty Leisure Years," including discussion of how the "long stretch after the youngest goes off to college can be vitally interesting," as well as the adoption of by-laws to convert the group into a permanent organization.
By April 1965 Town and Gown was open to the public for membership for the affordable annual fee of five dollars. The group's mission was to promote understanding between the university and the surrounding communities and to provide joint cultural, educational and social opportunities. On July 1, 1965 the first issue of the Town Crier, the group's newsletter, was published.
Providing financial support for UCI students has been a vital part of the group's mission ever since 1967, when funds were established to provide short-term, interest-free loans to students in need. Today Town and Gown still awards a variety of student scholarships. 
---
​Samuel McCulloch, Instant University (Irvine: University of California, Irvine, 1996), 172-173
​University Archives Vertical Files collection. AS-163. Box 15 (Folder 6). Special Collections and Archives, The UC Irvine Libraries, Irvine, California. Accessed Oct. 16, 2017. (Some information on founding and early years)