In the late 1950s the University of California chose the site of the Irvine Ranch for its new Orange County campus. The property had been used by The Irvine Company up to that time for cattle grazing and agricultural production.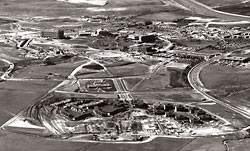 In 1959 architect William Pereira proposed a joint vision for the University of California and The Irvine Company: a university town. After studying university towns throughout the world, he decided that Irvine presented the perfect opportunity to create what he called a "town and gown" on undeveloped Company lands in conjunction with the new campus.
It took a decade of planning to create the infrastructure needed to sustain a city. Pereira and the Company's new venture in master-planned development charted the conversion of 10,000 of the total 93,000 acres of Ranch property into a suburban community. The master plan included mixed-use residences, business and commercial sectors, and considerable acreage devoted to open spaces such as greenbelts, parks, and bike trails. Irvine has since become the model for innumerable master-planned communities nationwide.
Construction of the first residential properties was completed by 1965, and Irvine was incorporated as a city on December 28, 1971. The city has since surpassed Pereira's vision of 100,000 residents and has maintained a close working relationship with the UCI campus in innumerable ways.
---
​Irvine Company and University of California Material Related to the Development of Irvine, California. AS.089. Box 1 (Folders 2 and 12). Special Collections and Archives, The UC Irvine Libraries, Irvine, California. Accessed Oct. 20, 2017.
Photograph: University of California, Irvine, early campus photograph albums. AS-056, Box 7. Special Collections and Archives, The UC Irvine Libraries, Irvine, California. Accessed Nov. 13, 2017.