Early Career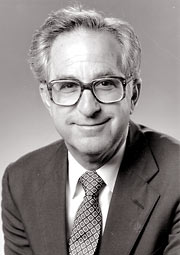 Jack. W. Peltason was born in St. Louis, Missouri, August 29, 1923. He received both his bachelor's and master's degrees from the University of Missouri. He earned his Ph.D. from Princeton University in 1947.
His first academic position was at Smith College in Northampton, Massachusetts, where he taught from 1947 to 1951. In 1951 he joined the faculty of the University of Illinois at Urbana-Champaign, where he rose to the position of Dean of the College of Liberal Arts and Sciences in 1960.
It was during this time that Peltason co-authored his classic textbook Government by the People. Since its first publication in 1952, the book has been issued in numerous editions and is considered a fundamental text on American democracy for political science students. Peltason has since become an internationally recognized political scientist and scholar of American constitutional law.
A member of UCI's founding faculty, he was appointed Dean of the College of Arts, Letters, and Science in 1963 when the campus was still in the planning phase. As Dean, he had responsibility for approving academic plans for each division and recruiting faculty to a campus that had not yet been built. In 1964 he was named UCI's second Vice Chancellor of Academic Affairs. In this position he played a leading role in guiding the creation of the university's original academic plan.
In 1967 Peltason returned to the University of Illinois at Urbana-Champaign as Chancellor, a position he held until 1977. He later became the chief spokesman for higher education as the President of the American Council on Education in Washington, D.C., from 1977 to 1984.
UCI Chancellor
Peltason returned to UCI in 1984 to become the campus's second Chancellor. One of his early actions was the creation of the UCI Medal to recognize the contributions of university and community members to the campus; the Medal has since been awarded to numerous distinguished individuals and is recognized as the campus's highest honor.
During his eight-year term UCI also underwent unprecedented physical growth, increased funding for endowed chairs and distinguished professors, initiated community partnerships, and attracted major institutes, notably the UC Humanities Research Institute in 1987 and the National Academies of Sciences & Engineering in 1988.
UC President
In 1992 Peltason was appointed President of the University of California during a major budgetary crisis. He was able to stabilize the UC budget through an agreement with Governor Pete Wilson. Peltason retired in 1995.
Retirement
Following his retirement, Peltason was active in many community and professional organizations. He served on the Board of Directors of The Archstone Foundation, The Irvine Health Foundation, and The Irvine Barclay Theater. He was also a member of the Board of Trustees, Soka University of America. He and Mrs. Peltason also remained active supporters of numerous UCI and community events. 
Jack Peltason died on March 21, 2015. 
---
​Jack Peltason papers. MS-F019. Special Collections and Archives, The UC Irvine Libraries, Irvine, California. Accessed Oct. 23, 2017.
​University of California, Irvine, Chancellor Jack W. Peltason records. AS-031. Special Collections and Archives, The UC Irvine Libraries, Irvine, California. Accessed Oct. 23, 2017.
​University Archives Vertical Files collection. AS-163. Box 3 (Folder 15), Box 5 (Folder 4). Special Collections and Archives, The UC Irvine Libraries, Irvine, California. Accessed Oct. 23, 2017.