When the UC Regents decided in the late 1950s to expand the university system to a location in either southeast Los Angeles or Orange County, they hired the renowned architect William Pereira to help identify a suitable site. That site, of course, turned out to be on the Irvine Ranch, and Pereira would become the Master Architect of both the UC Irvine campus and the City of Irvine.
Early Years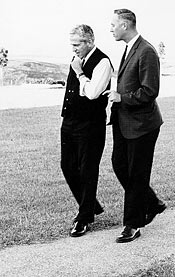 Born in Chicago, Pereira had earned a degree in architecture from the University of Illinois. He then got his start with the Chicago firm, Holabird & Root in 1930 before branching out on his own a few years later. His drive and initiative won him many projects, including a health sanatorium and a chain of movie theaters. At the Chicago 1933 exposition, he won 22 out of 25 industrial-design competitions.
In 1938 Pereira followed his wife Margaret, an actor and model, to California. Adapting to a new home and new life did not prove to be an obstacle to his work. He was soon hired to design a new studio for Paramount Pictures. Other accomplishments included teaching in the architecture department at USC and designing California institutions such as the Los Angeles County Museum of Art, Los Angeles International Airport, several buildings on the UC Santa Barbara campus, and CBS Television City.
He also had a stint in the film industry. He was the producer of "Johnny Angel" (1945) and "From This Day Forward" (1946), as well as production designer for "Jane Eyre" (1944) and "Since You Went Away" (1944).
The UCI Era
Working closely with Chancellor Aldrich and UC President Clark Kerr, Pereira envisioned UCI to evolve around two concentric rings, with a park as its center. The northern part of the rings would be the hub of the campus. The library, administration and student union would be situated here, with humanities and fine arts close by. The sciences would be at the southern position. This circular design would allow student residence halls to be near the academic buildings. Buildings would be, at most, a 10-minute walk from one another.
Pereira chose to design the campus buildings in the California "Brutalist" style, which stretched the limits of how concrete could be shaped. Brutalism (which literally means raw concrete, from the French "béton brut") took advantage of the poured concrete to free structures from posts and beams. Probably the best example of this is Langson Library, with its curved concrete façade.
When Pereira presented his "master plan" to the UC Regents at two meetings in October and December 1962, there was only one dissenting vote. The UC Irvine campus was soon built on 1,000 acres donated by the Irvine Company, with William L. Pereira & Associates at its architectural helm.
Later Career
After his time at UCI, Pereira went on to design notable projects such as the Transamerica Tower in San Francisco, Geisel Library at UC San Diego, and the Dickson Art Center at UCLA. He died in 1985.
---
William L. Pereira and Associates Project Workbooks for the University of California, Irvine Campus . AS-127, Box 1. Special Collections and Archives, The UC Irvine Libraries, Irvine, California. Accessed Oct. 27, 2017.
Samuel McCulloch, Instant University (Irvine: University of California, Irvine, 1996)
University Archives Vertical Files collection. AS-163. Box 3 (Folder 15). Special Collections and Archives, The UC Irvine Libraries, Irvine, California. Accessed Oct. 23, 2017.
Photograph: Early Campus Photograph Albums. AS-056. Special Collections and Archives, The UC Irvine Libraries, Irvine, California. Accessed Oct. 23, 2017.