The Centrum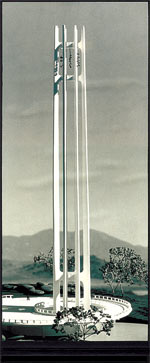 Model of Centrum, CA. 1968
Not all of the Master Plan ideas came to fruition. Most notable was the Centrum, a free-standing bell tower and museum that was to be the "architectural symbol" for the UCI campus. The Centrum was featured on the brochure titled "Introducing University of California, Irvine," which was issued before initial campus planning had been completed. The Centrum was proposed to be 250 to 300 feet tall and placed on a circular podium, which would have made it visible to the surrounding communities. The campanile's location at the center of Central Park, the campus' metaphorical heart, would have been the unifying point where the six academic quadrangles converged. As such, ceremonial events would have taken place at the foot of the Centrum. In conjunction with the Centrum, the "Great Lawn," an area of oval green turf, was proposed as a seating area for guests at campus events.
Nixon Library
In the early 1980s, the UCI campus was considered as a possible site for Richard Nixon's presidential library. This proposal launched a 6-month journey that inspired debates among faculty members, students, administrative officials and Irvine residents. While some were honored by the prospect of having a presidential library on campus, others were offended by the politics and character of the former president, and they campaigned against UCI's decision to bid for the library.           
The Academic Senate formed a special committee in February 1983 to explore the pros and cons.  In April Chancellor Aldrich  imposed a news blackout after unflattering stories were published in the Los Angeles Times alleging that the Chancellor's office was pressuring the Special Committee to make a decision. Later that month, the faculty voted 72-6 to ask the UC Regents to seek a bid for the library.
In May, however, Richard Nixon and his staff choose a site in San Clemente, 25 miles to the south, which had been the location of his "western White House." Nixon then became impatient and withdrew his San Clemente proposal when the approval process dragged on for 4 years. Ultimately the Nixon Library opened its doors in 1990 in his hometown of Yorba Linda in north Orange County.
---
​University Archives Vertical Files collection. AS-163. Box 11 (Folder 40). Special Collections and Archives, The UC Irvine Libraries, Irvine, California. Accessed Oct. 20, 2017.
Photograph: ​Mel Roop collection of University of California, Irvine historical materials. AS-186. Box XOS1. Special Collections and Archives, The UC Irvine Libraries, Irvine, California. Accessed Oct.13, 2017.