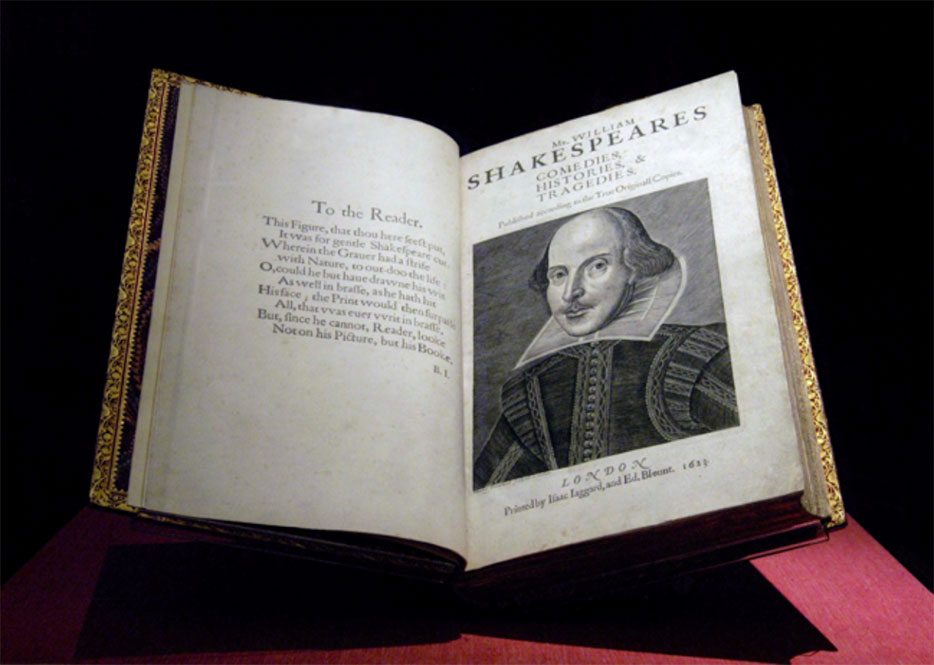 What is Shakespeare's First Folio?
The First Folio was the first compilation of Shakespeare's plays, it includes several plays which were never published before, which is why the First Folio is so important.
Because if all the copies of the First Folio had been lost, 18 of Shakespeare's most popular plays would not be known to audiences today (such as Macbeth; The Tempest; Taming of the Shrew, and tonight's play: Two Gentlemen of Verona."
The folio was a landmark of printing at the time, and is now considered one of the most valuable printed books in the world.
It had a print run of around 750 copies, and only 235 copies (that we know of) have survived today.
How did UCI acquire a copy of Shakespeare's First Folio?
UCI Libraries' First Folio was donated as a gift in 1986 by Patrick Hanratty, a UCI alumnus, who is a computer scientist and inventor, and he is known as the "Father of CAD/CAM" (computer aided design and manufacturing used in many industries).
You can learn more from Patrick Hanratty himself.
What makes UCI Libraries' First Folio unique?
Each First Folio is unique due to its particular printing errors, provenance (or ownership) and the wear and tear that has accumulated over its now almost 400 years of existence.
Specific information about UCI Libraries' First Folio can found in A New Worldwide Census of First Folios from Volume II of the Shakespeare First Folio The History of the Book by Anthony James West.
Condition and Distinctive Features
A good clean copy.' AI and 3b6 are in Harris facsimile; the title-page is that of the 1807 Wright facsimile, but printed on seventeenth-century paper with a fleur-de-lys watermark. 'Twenty-four leaves.
Provenance
Acquired apparently from John Fleming, book-dealer, by the Heritage Bookshop, Los Angeles. The Bookshop's description (c.1982) offered the volume for $225,000. Said to have been purchased by a private buyer and returned. Purchased c.1983-4 from Heritage Bookshop by Dr. Patrick Hanratty, who donated it to the University of California, Irvine, in December 1986. 'Hanratty is quoted in one publicity article as saying "We don't know the history of this particular folio."
Binding
'Late nineteenth or early twentieth century maroon morocco. Elaborately gilt spine with raised bands. Gilt panelled sides; gilt inner dentelles. Marbled… end-papers. [All edges gilded.] Bookplate removed [from the inside upper cover].'