In light of Valentine's Day, UC Irvine's Special Collections & Archives would like to highlight a noteworthy love affair from our British Naval History Collection. This love affair was between the famed Admiral, Lord Horatio Nelson and Lady Emma Hamilton.
| | |
| --- | --- |
| | Revered as one of Britain's most heroic figures, Lord Horatio Nelson, gained his fame from decisive naval victories against the French Empire during the Napoleonic Wars. Several monuments, marking his legacy were erected after his death; the most famous being Trafalgar Square in London, England. |
| Lady Emma Hamilton was known for her great beauty; a quality which lent itself to a life of modeling and acting throughout Europe. Lady Emma, a married woman, caught Lord Nelson's eye at the Neapolitan court, thus beginning, and rather publicly, their love affair.  In 1801, Lady Hamilton bore his daughter, whom she fondly named, Horatia, after her father. | |
UCI's Special Collections and Archives houses two rare volumes, containing correspondence between the lovers. The letters, beginning in 1798 and continuing till Lord Nelson's death in 1805, contain humorous quips, words of longing, and Lord Nelson's general grumpiness about royal naval life in the 1800s.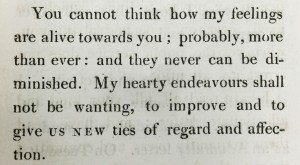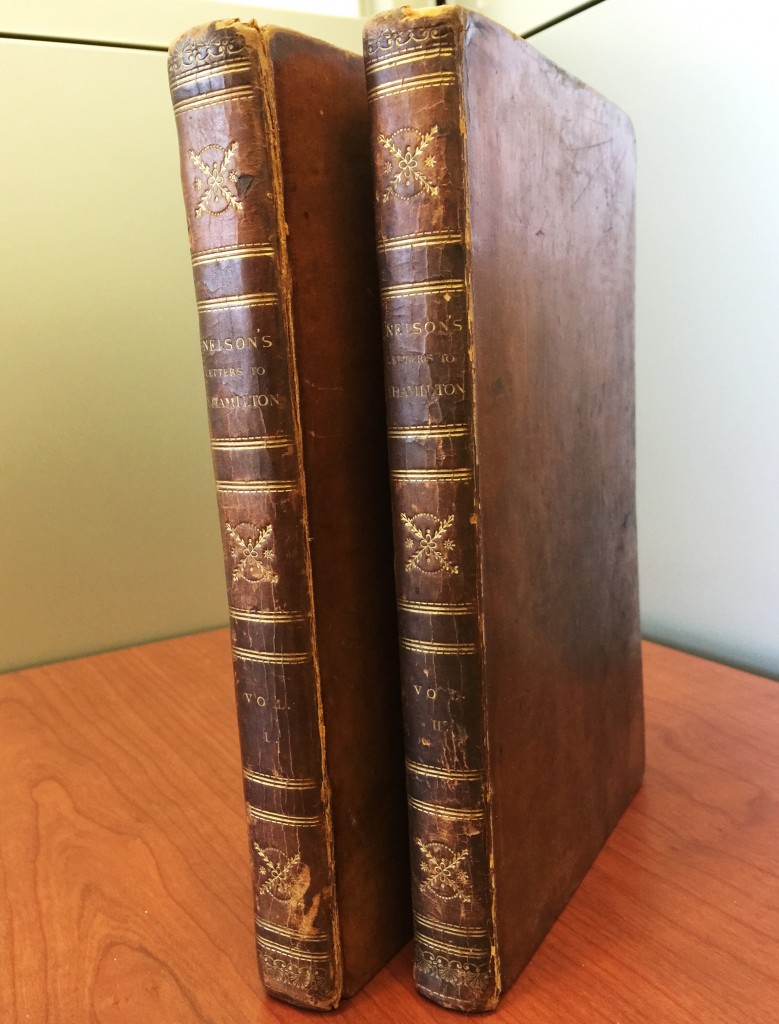 If this has piqued your interest, stop by and explore the British Naval History Collection! Highlights include: Early navigation manuals, illustrated glossaries of naval terms, reports of major voyages such as those of captains Cook and Hawkesworth. Ships' logs, signal books, seamanship notebooks, and correspondence collected by Admiral Sir Angus Cunninghame Graham, as well as the professional papers and extensive correspondence of UCI professor and historian Arthur J. Marder. Sources:
Nelson, Horatio Nelson, and Emma Hamilton. The Letters of Lord Nelson to Lady Hamilton; with a Supplement of Interesting Letters,. London: Printed by Macdonald for T. Lovewell, 1814.
Williams, Kate. "Nelson and Lady Hamilton: A Very Public Affair." BBC News. February 17, 2011. Accessed February 12, 2015. http://www.bbc.co.uk/history/british/empire_seapower/nelson_emma_01.shtml.
"Horatio Nelson, 1st Viscount Nelson." Wikipedia. Accessed February 12, 2015. http://en.wikipedia.org/wiki/Horatio_Nelson,_1st_Viscount_Nelson.
"Emma, Lady Hamilton." Wikipedia. Accessed February 12, 2015. http://en.wikipedia.org/wiki/Emma,_Lady_Hamilton.