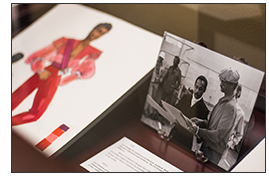 An exhibit featuring original costume designs by former UCI faculty member Bernard Johnson is now on display in Special Collections & Archives. The designs are part of the Bernard Johnson papers, a newly processed archival collection available for research.
Bernard Johnson (1936-1997) was a dancer, costume designer, director, choreographer, and teacher who amassed an extensive list of credits working in theatre, television, and film. In 1991, on the recommendation of UC Irvine dance professor and choreographer Donald McKayle, Johnson was recruited as the first UCI professor of costume design for dancers, obtaining an appointment as an assistant professor of dance. He taught students how to draw designs, create patterns, sew, and choose and work with different patterns. He also designed costumes for faculty and student concerts.
The costume designs of Bernard Johnson represent the artistic crossroads of fashion and dance. Johnson's identity as dancer and designer is reflected in his art, rich in color, character, and movement. His work illustrates both the role of design in supporting the storytelling function of theatre and dance and the aesthetic merit of costume design as a visual art in its own right.
The works selected for the exhibit showcase the diversity of Johnson's costume styles, media, and draftsmanship. Johnson worked in pencil, marker, pastel, pen and ink, and paint, and executed his designs with varying levels of detail. While some depict carefully crafted figures with nuanced gradients of color, others are minimalistic line drawings or quick sketches. His representation of movement is similarly versatile, ranging from intense athleticism to statuesque stillness. The costumed characters featured in his designs emerge from historical and fantastical narratives and timelines, and serve as a testament to the creative environments in which Johnson participated.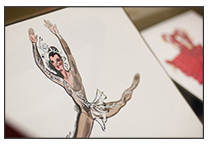 The Bernard Johnson papers (MS-P053) are part of Special Collections & Archives' performing arts collections. The papers were processed in Spring 2014 by intern Judy Chou, graduate student in Library & Information Science at San José State University. The items featured in the exhibit were selected by Judy Chou and Archivist Sara Seltzer. Fashionable Dance will be on display through mid-December in the Special Collections & Archives lobby on the 5th floor of Langson Library, Room 525.
For further information about the exhibit or the Bernard Johnson papers, please contact Steve MacLeod, Special Collections and Archives Public Services Librarian at 949.824.4967 or
smacleod@uci.edu