Special Collections and Archives has a little known and rarely performed score of Duke Ellington's only opera
Queenie Pie
. Ellington began work on the composition he called a "street opera" in 1962. He had just received a commission from public television station WNET in New York for an hour-long broadcast. The broadcast didn't materialize, and in 1971 Ellington decided to expand the effort into a full-length production. He worked closely with librettist Betty McGettigan until Ellington's death in 1974, but the work remained unfinished. Various versions of
Queenie Pie
have been produced in the 1980s and 1990s, but the scores weren't preserved.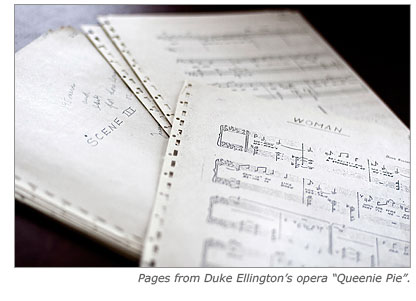 In 2007, musician Marc Bolin began to track down the pieces of the story. The Smithsonian had some items. The UCI Special Collections and Archives has an 87-page score, titled "Queenie Pie: An Opera Buffa in Seven Scenes," located in the
Donald McKayle Papers
(MS-P023), Box 16: Folder 7, which Bolin looked at. McKayle was doing research for his Tony-nominated Broadway hit "Sophisticated Ladies," based on the life and writings of Duke Ellington. The music in the McKayle archive is not a full orchestral score, however. Bolin used these pieces to complete his version of the orchestral composition and his version was used in a 2008 production by the Oakland Opera Theater and in 2009 at the University of Texas at Austin. To great acclaim, the Long Beach Opera and the Chicago Opera Theater have recently staged the latest productions of
Queenie Pie
in 2014.
For further information about these fascinating archival materials, please contact Steve MacLeod, Special Collections and Archives Public Services Librarian (x44967 or smacleod@uci.edu).