Our collection of over 500 artists' books dates from the 1960s to the present (most are published after 1990) and encompasses nearly all aspects of the genre from "normal" published works to altered, sculptural, painted and unique books. The Artists' Books collection has three major foci: works by and about women; works that explore contemporary American politics; and works produced in Latin American countries.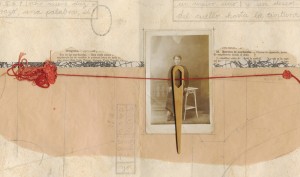 The collection "Yani Pecanins Artists' Books" (MS-M026) comprises eighteen artists' books created by Yani Pecanins. Most of the books are unique (i.e., the artist only made one copy) and incorporate found objects, such as washing boards, spools of thread, newspaper, needles, combs, plates, and clothing fragments. Most are three-dimensional constructs rather than book-like in nature.
Mexican mixed-media artist Yani Pecanins is best known for her artists' books. Many of her books tell stories about women's lives and incorporate everyday found objects, such as clothing, needles, threads, and pins. Her books often feature handwritten texts exploring sensation, intimacy, and the inner worlds of herself and others. Pecanins was born in Mexico in 1957 of immigrant German and Catalan parents. Pecanins began creating artists' books in 1977 when she established Cocina Ediciones to publish books and portfolios for artists. Beginning in 1980 she began to create unique artists' books with found objects. In 1984 she established an art gallery and bookstore, El Archivero, with two other artists, Gabriel Macotela and Armando Saez, which only lasted a few years. Pecanins has exhibited her art throughout Mexico and the United States. In recent years, she has created art objects and installations that transcend the book format. The finding aid provides more details about each of the books in the Pecanins collection.